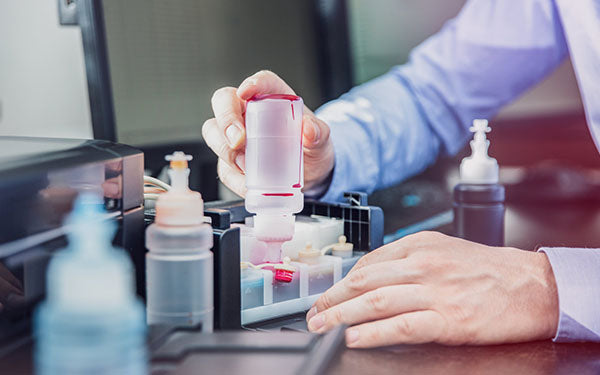 How to Refill HP 63 63XL Ink Cartridges?
Tools required:
 Surgical gloves
 Cartridge refill adapter
 Ink injector
 Plastic sticker
 Black ink, cyan, yellow and magenta ink  
 Paper tower
 Ink cleanser
1. Take out the empty ink cartridges from our HP printer
 1.1 Open the printer carriage and take out the empty ink cartridge
 1.2 Clear out the remaining ink from the empty ink cartridge to avoid it from stocking
 1.3 Clean the ink cartridges with the paper tower and cleanser until it is no remaining ink
2. Fill the ink into the empty ink cartridges
 2.1 Find the correct injection hole position, inject and fill the ink into the ink cartridge like this way
 2.2 After the ink cartridge is filled, clip the ink cartridge on the refill adapter. use the injector tool to suck out some ink from the bottom to then check if the ink cartridge is working.
 2.3 As to the HP 63XL tri-color ink cartridge, we need to insert plastic stickers into the injection hole to check the ink color, after that can we fill in the color ink into the cartridge, don't mess up the colors
3. Clean the ink cartridges after full filled, install them back to HP printer
 3.1 Use tower paper with some ink cleanser to swipe on the cartridges, paste the tapes on the injection holes
 3.2 Install the full filled HP ink cartridges back to the printer and close the carriage door
 3.3 Restart the HP printer and check the ink status report. We can see the ink cartridges are full 
Notice: 
There are some aspects we should focus on before we take the above process. Firstly, ink cartridge refilling is a messy affair. we should be careful about the ink stain. Furthermore, don't use cheap bad quality ink to refill your ink cartridges because it may damage your printer. Finally, we should notice that damages from refilled ink to our printer will avoid the manufacturer's warranty, which will cost us extra fee for repair. We suggest you choose the reliable brand compatible HP 63XL ink cartridge to replace if your printer ink is running out. Come to Toner Kingdom and you can find suitable items. What can we do to our empty ink cartridges? We will give you answers on our next article. Just follow our blog and you will find something interesting.