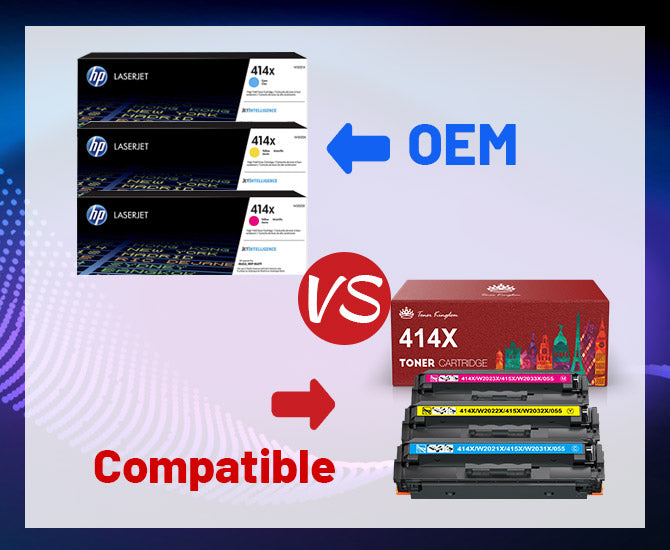 What's the Different Between OEM and Compatible Toner/ Ink Cartridge?
For many years now, people have been using compatible cartridges that offer the same quality as more expensive Original Equipment Manufacturer (OEM) cartridges.

However, many people are still confused about the difference between compatible & OEM cartridges. Here in this article, we will explain the difference between the original (OEM) and compatible.
What is an OEM Cartridge?

OEM cartridges ( Original Equipment Manufacturer) are cartridges that your printer manufacturer is counting on you to buy. They are the most expensive since this is how manufacturers make their money back from selling printers at a very low price.

Printer manufactures sell OEM inks/toners at a premium because it helps them maintain a healthy, non-stop revenue stream. So, is there a way out? Is there a cost-effective alternative to expensive OEM inks and toners? Well, unless you have purchased a printer that has been launched just days ago, there's a very good chance that you can find cheaper, compatible cartridges for just about any printer model on the web these days.
What is a Compatible Cartridge?

Just like an OEM printer cartridge, a compatible inkjet or toner cartridge is also a brand new cartridge. But, it is not manufactured by your printer manufacturer but a third-party cartridge manufacturing company.
A compatible ink or toner cartridge and its OEM counterparty may not be completely identical in appearance but the former is designed to fit perfectly in your printing device.

Compatible cartridge manufacturers do not have to worry about R&D costs or burgeoning operating costs. So, they are able to pass on the savings to you. This is precisely the reason why compatible inks and toners are cheaper than OEM cartridges.
Why Most People Use Compatible Cartridge More?

Page Yield & Print Quality: Usually the compatible ink and toner cartridges have the same page yield as the original.
But at Toner Kingdom the compatible cartridge page yield is more than original. With a lower price.
Each one of our cartridges goes through an intensive quality test to ensure our customers receive a world-class product, every time.

Price: Original brands toner cartridge is usually expensive,the compatible and Re-manufactured toner cartridge is the price difference. The compatible brand is produced by the foundry, so the price will be much cheaper than the original one. Their price is about 1/3 of the original.

Quality: You can expect compatible ink/toner cartridges to be as good quality as their OEM counterparts.
However, you need to make sure that you always buy compatible cartridges from a trusted seller. One of the best ways to identify such a seller is to check whether they have a satisfactory product return policy. Cartridges sold by a reputable seller will also be backed by a guarantee.
At Toner Kingdom, this is exactly what we offer to all our customers. We have a 36 months warranty policy and 30 days free return policy.
Currently, we have affordable ink and toner cartridges for 100s of printer models sold by HP, Canon, Dell, Epson, Brother, and other major brands.

Millions of people around the world are using compatible printer cartridges to keep printing costs under control. Why don't you have a try?
Toner Kingdom always here for you.
BTW, you can check the coupon site Couponxoo to get more coupons. CouponXOO is a great savings destination providing useful solutions for shoppers. Exactly, you can find everything related to thrift shopping, discounts, promotions, gifts in the best convenient way and of course, all of them are automatically updated and checked manually regularly. CouponXOO is Toner Kingdom's coupon partner so you can find the latest Toner Kingdom coupons at Couponxoo to get the best price.