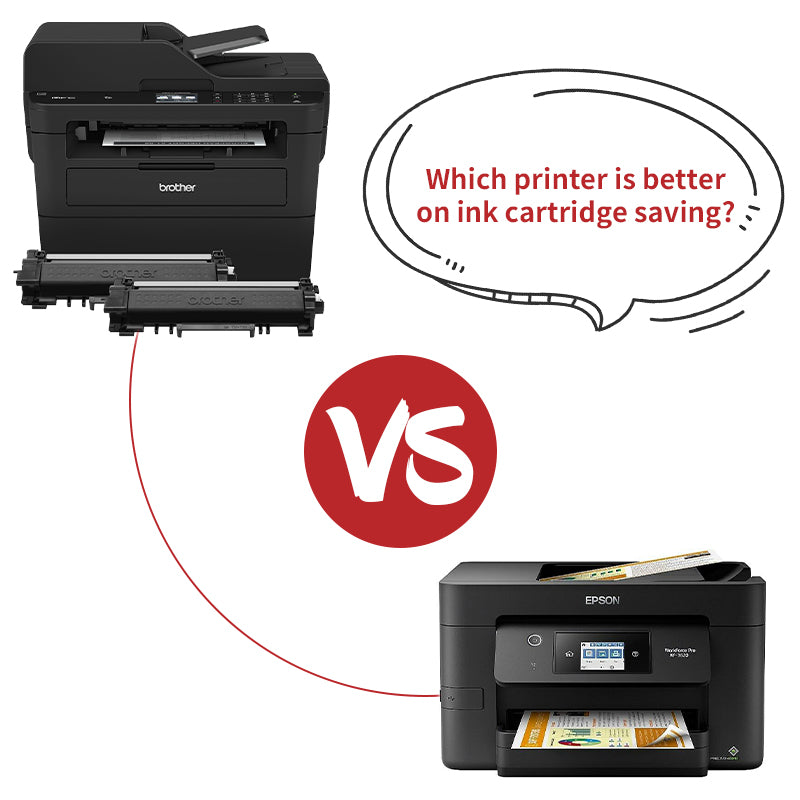 Which Printer Brand is the best Money Saver on Ink Cartridges?
The printers are basic machine equipment in our office or at home. A good printer not only provides us good quality work on paper print, but also saves us a lot on ink cartridge cost. Since the printer ink price is rising up, choosing a suitable printer will save you money on ink cartridge on this way. Here Toner Kingdom make a comparison on two well-know printer brands about ink cartridge cost. We hope our test will be helpful to our friends who is planning on buy a new printer. Details sources from YouTube videos, check this out:
Epson
Take Epson Ecotank ET-2760 as example, this printer is $300 on the market. This inktank printer needs ink injection inside it, no cartridges. There are bottles of ink inside the box which will last you two years for printing. You just need to inject the ink bottles on each tanks on the color labels. It's easy. You can start printing when the ink tank is full.
Epson Workforce Pro WF-3820. The printer is $150, and the black ink cartridge is $20, the color cartridge is $34. Look at the efficiency it works, this printer come about 350 black pages and 240 color pages. To calculate the cost of the ink tank, it would cost you thousand dollars on ink cartridges.     
Brother 
If you want to print black and white, the Brother printer will be a great option. Just like Brother HLL2395DW printer do for you, this printer cost you $170 but work very fast for black and write paper printing. It took 1.5 minutes for 50 paper printing. On the other side, the Brothe printer toner cartridge is expensive. It cost you $77 for toner replacement. It's work efficiency is 3000 black and white paper printing, which is high the the former mentioned Epson printer. If you want to buy a laser printer, Brother is the best choice for you.
In conclusion, you will cost a lot extra on toner cartridges if you are buying a printer. The comparison will be helpful to you which printer brand to choose. All in all, the toner cartridge is quite expensive and we need to consider on this way. Toner Kingdom's toner cartridges for Brother HL series printer work the same as the originals on print quality. Besides, our toner cartridge for Brother printer models, laser inject ink cartridges are 100% quality grantee with lower price than the originals. Come to our shop if you need to replace your printer cartridge.