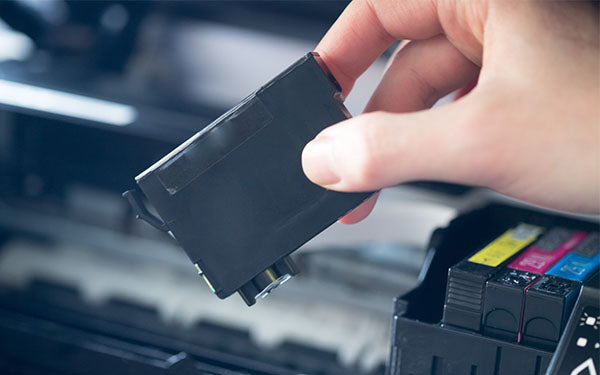 3 Things We Need to Know About Ink Cartridges Recycling
Our printer ink cartridges are running so fast these days. We replace our ink cartridges frequently because the ink cartridge manufacturers charge us cheaper these days. Here comes the problem. What shall we do to the waste empty ink cartridges? The first thing we come about is cartridge recycling. Sending our empty waste ink cartridges to recycle facilities is good for environmental protection, and also is a good way to raise our money. Since ink cartridge recycling provides us advantages, there are some aspects we should consider in the first place. Here Toner Kingdom discuss 3 questions about this project below.
1. Why we should recycle our empty ink cartridges?
The ink cartridges are mainly made of hard plastic and sponge. According to the UNEP reports, there are thousands of tons of plastic waste on the earth. These high polymer materials are very hard to decompose in nature, which will be harmful to our human body and the animals'. Plastic pollution is massively harmful to our environment, and it is worse and worse these years. Empty ink cartridge does not only contain plastic material, and also contains waste ink inside. The waste ink will release toxic chemicals, which will deadly harm to our bodies. Based on these reasons, we should recycle our empty waste ink cartridges and don't cast them into the garbage.
2. How to recycle our ink cartridges?
Most of us know that recycling our empty waste ink cartridges is good for us but we don't know how to recycle them. There are two practical ways to recycle our ink cartridges. First, we can contact some ink cartridges retailers. Most of the retailers provide ink cartridge recycling services. We can go to their online shop and contact them directly. They will show us the way how to make it. Besides, we can contact someone who is special in running the recycling business. These people are special in running the wastes recycling and sell them to re-manufacturers, from which they will get money as rewards. We can sell our waste ink cartridges to them and raise our money.
3. What else can we do to our empty waste ink cartridges?
The empty ink cartridge can be reused. Firstly, we can refill them and use them to install them back to our printers. Details about ink cartridge refilling refer to our previous blog on How to Refill HP 63XL Ink Cartridges? On the other hand, we can refit them as toys for children or home decoration. We watched some DIY videos about making lampshades with the waste empty ink cartridge in innovative ways. Anyway, there are hundreds of ways we can reuse our empty ink cartridges. Just don't waste them in our house and office.
In conclusion, recycling or reuse our empty waste ink cartridges is important to all of us. No matter when we should keep this environmental protection idea in our minds. There are so many paths we can do to remake our empty ink cartridge worthy again. Don't abandon them around our environment. Furthermore, you can come to Toner Kingdom and find cheap compatible ink cartridges to replace in your printer. Any ideas about what to do to our empty ink cartridges? Leave your comments below so that we can discuss it.